A new book by Christchurch activist Jared Davidson Remains to be Seen traces the ashes of Joe Hil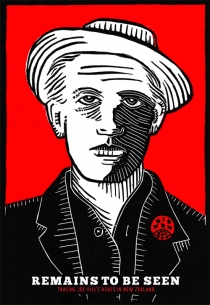 l — radical songwriter, union organiser and member of the Industrial Workers of the World (IWW) — from their distribution in Chicago to wartime New Zealand. Drawing on previously unseen archival material, it examines the persecution of anarchists, socialists and Wobblies in New Zealand during the First World War. It also explores how intense censorship measures — put in place by the National Coalition Government of William Massey and zealously enforced by New Zealand's Solicitor-General, Sir John Salmond — effectively silenced and suppressed the IWW in New Zealand.
The book will be launched in Christchurch on Thursday June 30 at Beat Street Cafe (Corner Barbadoes and Armagh), at 5.30pm. Copies of the book will also be available for purchase. A review of Remains to be Seen will appear in the August issue of The Spark and on this website.